Last week brought the return of a dedicated event for sharepoint and the rest of the office 365 family (teams, onedrive, and yammer) — the sharepoint conference — and some long-awaited capabilities for modern sites in office 365.
I was especially excited about all the love for metadata — bringing visibility of document metadata to Microsoft teams (finally) — and my absolute favorite announcement: the ability to add metadata to pages in "edit" mode!
Though most of my time is spent on cloud-based solutions these days, sharepoint on prem got a lot of love, too, with the announcement that some of the best features on the cloud are coming to sharepoint 2019, including communications sites, team news, and modern team sites to include lists and libraries. Read more in Bill Baer's blog post.
[Further Reading: 5 tips for working with Sharepoint online]
Plus, some important updates for organization news will delight a lot of my clients in corporate communications. If you are at all hesitant about creating your next generation on sharepoint/office 365, the intranet announcements this week should remove most barriers.
Metadata visibility in Microsoft teams
Microsoft teams provides a great experience for team work, and each Microsoft team includes a SharePoint team site. I am often asked if the team site you get with Microsoft teams is the same as a SharePoint team site. The answer is yes! When you create a team, your members are added to an office 365 group. Every office 365 group comes with a team site — the exact same type of team site you get when you create a team site from SharePoint. The only difference is that if you create your group from the teams interface, you also get the experiences provided by Microsoft teams, including chat and connectors.
One reason why many people are confused about teams vs. Team sites is that the view of documents from the teams interface today is different from the view of the same document library in SharePoint. The announcement last week is that the view of a document library that you see in SharePoint will now be available in the files tab in teams — complete with all the custom metadata that you have defined for your documents in SharePoint. So, go ahead and add metadata to the default "shared documents" library in SharePoint — your team members will be able to see and interact with the metadata from teams.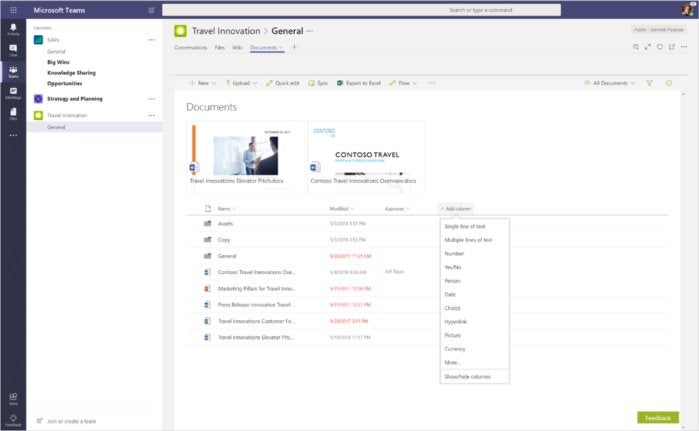 "On page" metadata. While it is possible to add metadata to pages in office 365 today, adding metadata requires a multi-step process that involves creating the page, going to the site pages library, finding the page you want, then editing the properties of the document to add metadata that can then be used to filter content in the highlighted content web part and page library views — but not much else.
[ Become a Microsoft office 365 administrator in record time with this quick start course from plural sight. ]
Last week's long-awaited announcement introduces a much easier way to update page metadata — on the page while the page is in "edit" mode. And, with a new web part, you can display page metadata to users to showcase how pages are classified.